Anne Redway & Mike Lewis' Kasaque Ra Abdur Rashid wins BIS at SGHC Limited Show. Handled by Adele Walton Haddon
Photos thanks to Jenny Macro)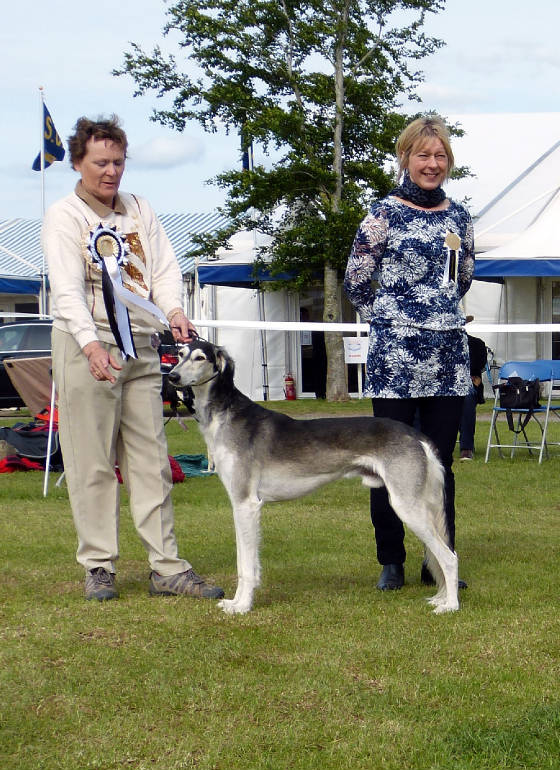 Kasaque Raissa (Roza) co owned with Jenny, Steve & Laura Macro
SCCS 2nd PGB
1st Grad Bitch at Limited Show
Photos thanks to Jenny Macro
Welcome to the UK El Hamrah Mansur of Kasaque
Mika at 5 months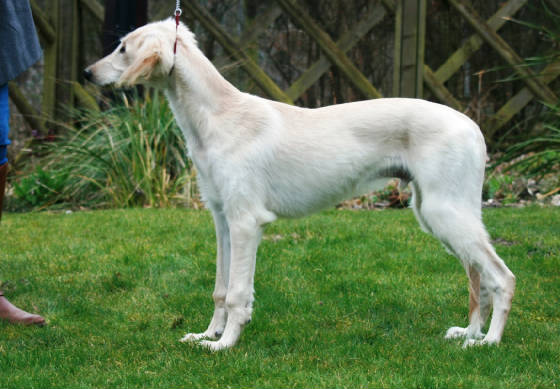 Photo: P. Kekäläinen
"Mika" is living with Emma Darby
Midland Counties 24th of October 2014

Kasaque Obidiah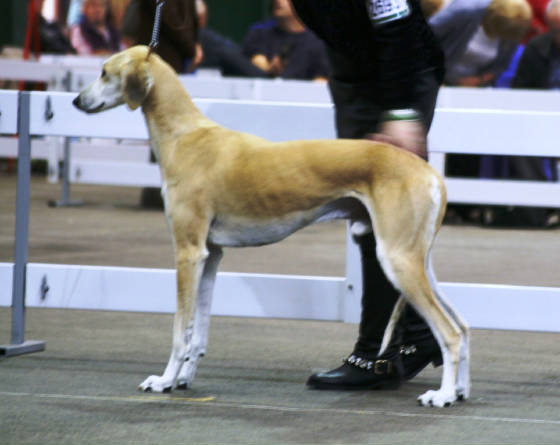 Photo: P. Kekalainen
RDCC Kasaque Obidiah
1st Post Graduate Dog Kasaque Ra Frankel
2nd Post Graduate Bitch Kasaque Raissa
Raissa winning Junior Bitch at
Three Counties Championship Show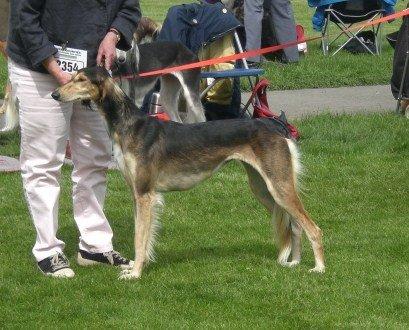 Frankel winning Junior Dog at
Southern Counties Championship Show
Update on our German Salukis
owned by Jutta & Gunter Kolewe
Kasaque Nappanu (aka Snoopy)
German Youth Champion
German Champion
German Champion VDH
Austrian Champion
Swiss Champion
Champion for Beauty and Performance
International Champion for Beauty and Performance
DWZRV-Winner 2011 (Beauty and Performance)
Kasaque Oliver (aka Oliver)
German Champion
German Champion VDH
Belgian Champion
Champion for Beauty and Performance
Best Puppy in Show at SGHC Championship
Kasaque Ra Frankel with owner Marie Bryce-Smith and Judge
Nicola Quadling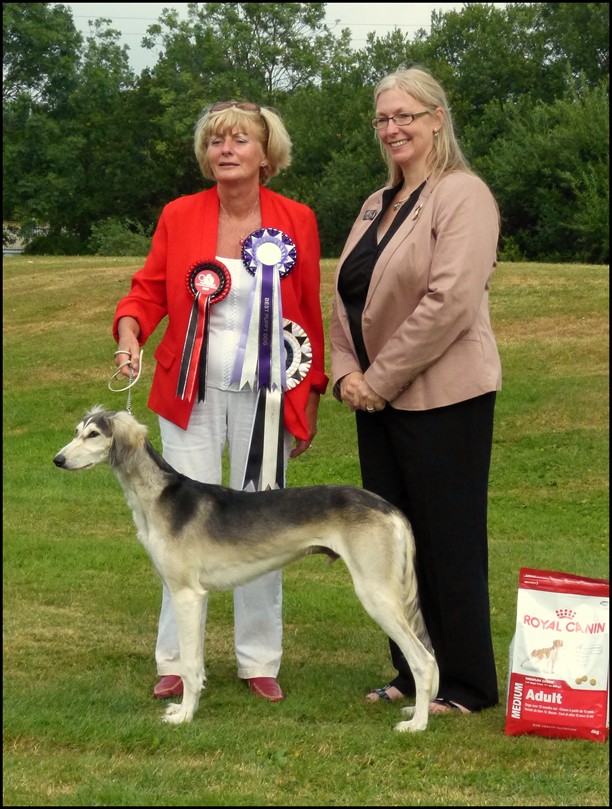 Rosa winning Best Puppy Bitch
and RBPIS
Rosa (Raissa)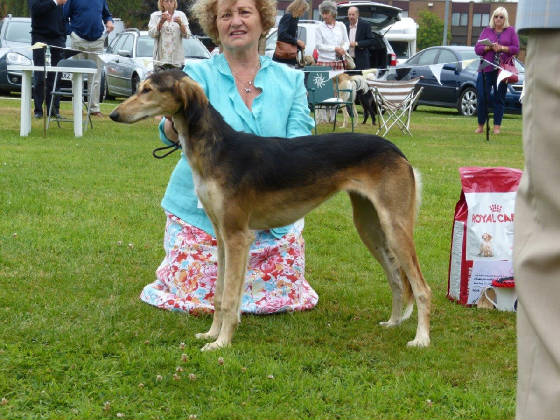 Kasaque Omar winner of Post Graduate Dog
at SGHC Champ Show 2013. Owned by Anji &
Peter Jackson-Main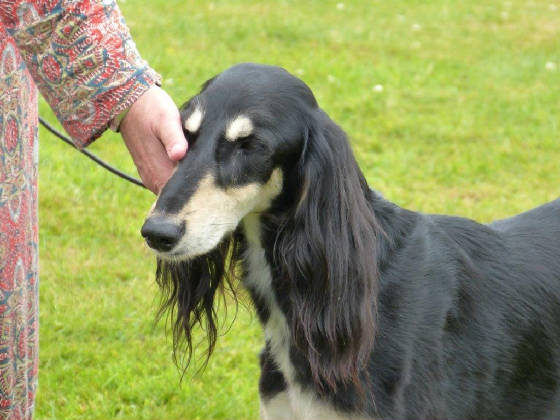 Saluki Puppy Party at Comptonwood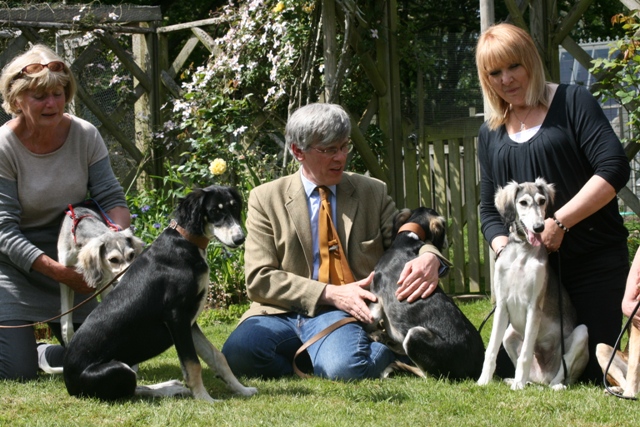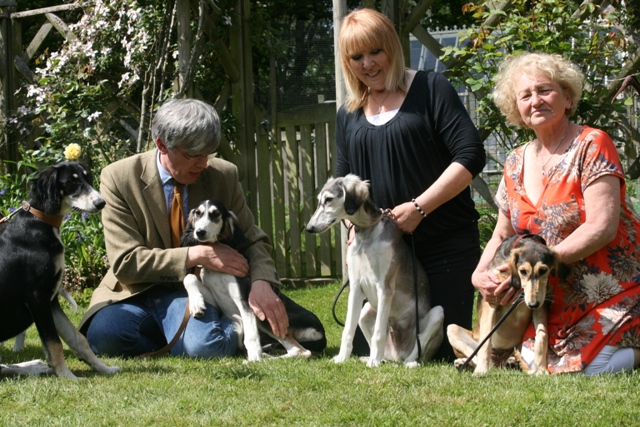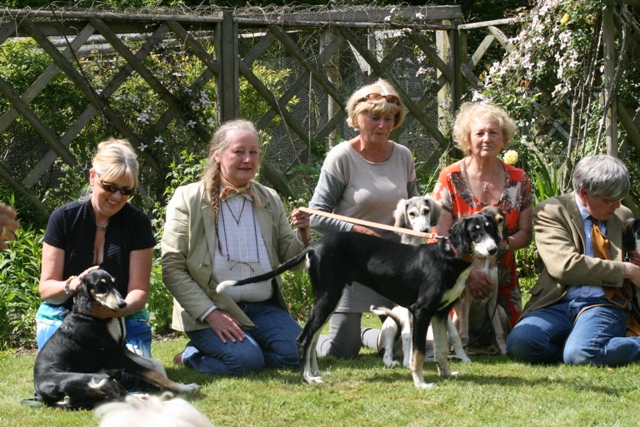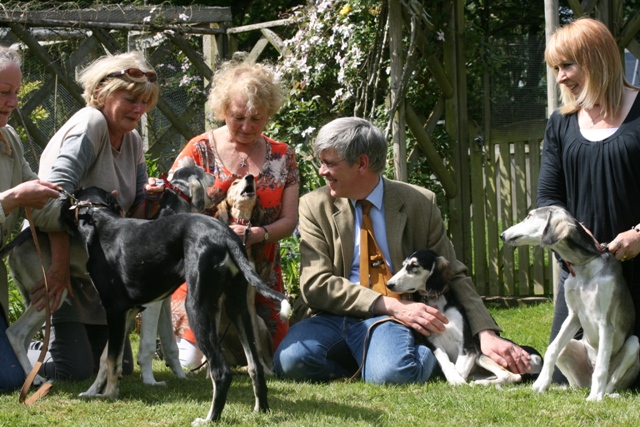 South Wales Championship Show Critique
Kasaque Phelene: 1st PGB: Grizzle bitch with dignified expression and elegant appearance. Long neck into well-laid back shoulders, well balanced with good spring of rib carried well back. Strong quarders. Moved effortlelessly
Ch Kasaque Miracle 2nd Open Bitch RCC: Another lovely bitch who obviously enjoyed her day out. Feminine head with good eye, strong neck into well-said back shoulders. Firm top-line. Moved well. A close decision.
CRUFTS 2012
1st junior dog Kasaque Palmiro Nefisa
2nd post graduate Dog Kasaque Obidiah
2nd limit dog Kasaque Newark
1st veteran bitch Ch Kasaque Luzhana
2nd junior bitch Kasaque Paloma
1st yearling bitch Kasaque Phelene
Res CC and 2nd Open bitch Ch Kasaque Miracle
Kasaque Palmiro Nefisa at Crufts.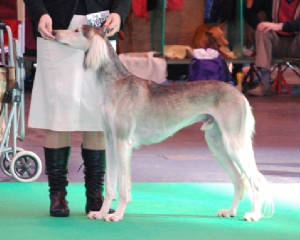 SALUKI OR GAZELLE HOUND CHAMPIONSHIP SHOW 2011
Thanks to all the judges of the day we did not fare badly
2nd Puppy Dog: K. Palmiro (Macro)
1st Novice Dog: K. Omar (Main & Jackson-Main)
1st Mid Limit: K. Niagra Monk-Schenk)
4th Limit Dog: K. Newark (Pickering)
1st Special Open Dog (smooth) K. Obidiah (De Souza & Woodgate)
2nd Special Veteran (over 10 Years) Ch K. Jimna Sh CM
(Tovey & Williams)
1st Puppy Bitch BPIS: K. Phelene (Williams)
3rd Puppy Bitch: K. Paloma (Williams)
3rd Yearling Bitch: K. Ola Nefisa
4th Open Bitch: Ch K Miracle (Williams)
1st Special Veteran: K. Jarvah
1st Special Beginners Bitch: K Ola Nefisa
Kasaque Obidiah
(owned by Connie De-Souza & Heidi Woodgate)
1st Special Junior Dog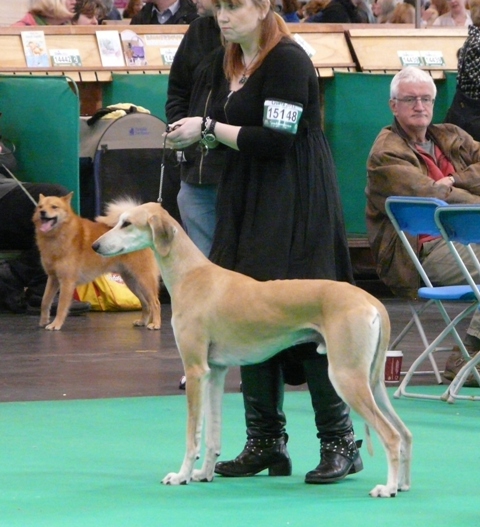 Ch Kasaque Miracle
4th Open Bitch
Ch Caspians L'aliq avec Kasaque
3rd Veteran Bitch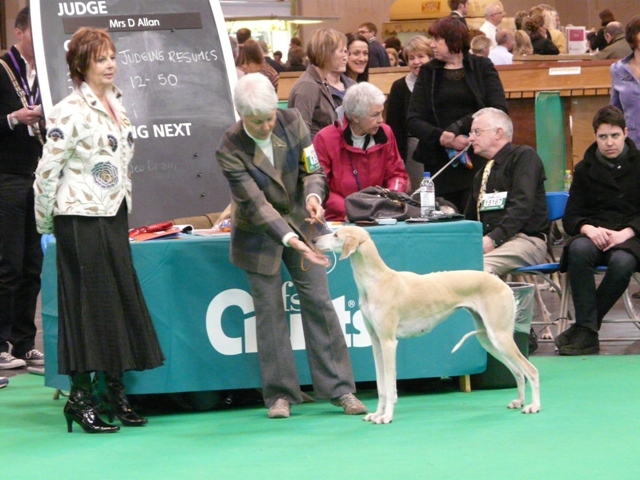 Kasaque Niagra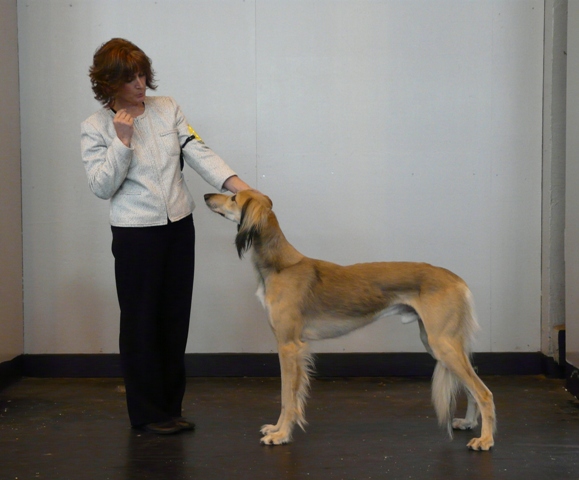 New Champion Kasaque Lydia
LKA 2010
Judge Mrs Clair Chryssolor
Another much overlooked bitch which I don't understand. The handler upped the ante with presentation and it worked. Almost gave a RCC as a pup then, as ever, watched her "go off" as a teen. Extremely hard muscled with no coarseness whatsoever. A fine and moderate bitch overall with a very feminine head leading to a long neck, strong shoulders to an excellent topline and rise over the loin. A deep chest with good fill in. Narrow feet, a wide second thigh with good inner thigh muscle, low hocks and didn't put a foot wrong moving as she moved so lightly around the ring. She maintained this throughout giving her her third CC.
Congratulations to German Ch Kasaque Nappanu
on obtaining his VDH Championship
Bournemouth Championship Show
Judge Kathy Webb
1sy Puppy Dog Kasaque Orlando
3rd Post Grad Kasaque Niagra
1st Puppy Bitch & Best Puppy Kasaque Odetta
1st Limit Bitch, BCC & BOB Kasaque Lydia
2nd Limit Bitch RCC, Kasaque Miracle
3rd Limit Bitch Kasaque Nashua
Judge Kathy Webb with Lydia, Miracle and Odetta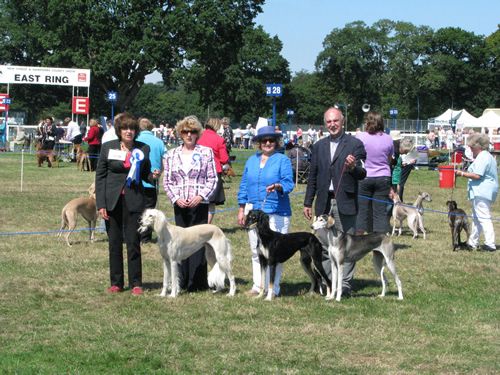 Hound Association 2010
Judge Denise Rogers
1st Puppy Dog Kasaque Orlando
3rd Puppy Dog Kasaque Obidiah
2nd Post Graduate Dog Kasaque Newark
2nd Puppy Bitch Kasaue Odetta
4th Puppy Bitch Kasaque Ola Nefisa
1st Limit bitch, CC, BOB Kasaque Neeka
2nd Limit bitch Kasaque Nashua
Paignton Championship Show
judge Mrs Mary Parker
1st Puppy Dog Kasaque Orlando
1st Puppy Bitch & Best Puppy, Kasaque Odetta
2nd Puppy Bitch kasaque Ola Nefisa
1st Limit Bitch RCC, Kasaque Lydia
2nd Limit Bitch Kasaque Neeka
4th Limit Bitch kasaque Nashua
3rd Open Bitch Kasaque Miracle
Phyllida Cooke with RCC winner Lydia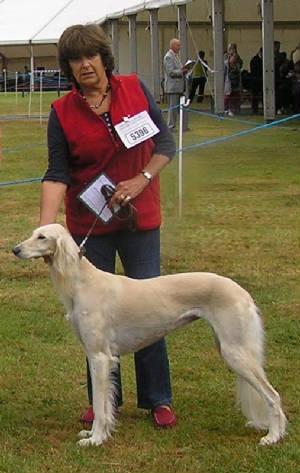 Windsor Championship Show 1st July 2010
Judge Mrs Elaine Stanmore
2nd Minor Puppy Dog Kasaque Obidiah, Smooth fawn with nice eyes and length of neck. Not as evenly grown as 1 affecting his angulations and topline. Needs time to develop.
3rd Minor Puppy Dog Kasaque Orlando
4th Minor Puppy Dog Kasaque Omar
3rd Puppy Dog Kasaque Obidiah
2nd Post Graduate Dog Kasaque Niagra
1st Limit Dog, CC, BOB Nefisa Jeevun Sh CM (sire of Oos)
1st Puppy Bitch and Best Puppy Kasaque Odetta, Enchatting smooth grizzle with a very pretty markings has such lovely expression and head which she holds very proudly, long neck good angulations and topline, correct feet moved very well and most assured for her age, in body looked like a puppy should, Best Puppy..
2nd Kasaque Ola Nefisa, Black fringed red also very promising, has a very nice expression good body and angulations and moved well. Longer caste than 1 at this stage and not quite so mature.
1st Post Graduate Bitch Kasaque Neeka, Another very nice b/fawn bitch of quality, she has a lovely head and expression, good topline and angulation deep brisket, nice length of loin and moves extremely well. Wverthing in the right place for me shw had the edge point for point in this class, just a bit unsettled in the challenge
4th Post Graduate Bitch Kasaque Nashua
2nd Limit Bitch Kasaque Miracle Lovely tri with presence who I have liked from a very exhuberant puppy, now looking quite grown up. Again she has a lovely head, outline and overall construction, her black coat fleamed in the sun, little unsteady coming towards me but a beautiful bitch who must also have a very bright future.
4th Limit Bitch Kasaque Lydia
CAC Offenbach
19.06.2010
Judge: Mr Baumann / D

Puppy Class
Kasaque Oliver very promising 1, Puppy BIS

CAC Eilenburg
19.06.2010
Judge: Mr Blümel / AT

Open Class
Kasaque Nappanu Ex 1, CAC, BOS

With this CAC, Nappanu
finishes his title German Champion


Finnish Saluki Club 12/13th June 2010
Kasaque Nacomis (Jada) (see photo on Home page)
Ex BOS Smooth, judge Sharon Kinney
3rd in Open bitch judge Carole Beyerle on Sunday.

CACIB Klagenfurt / Austria 12. Juni 2010
Judge: Mrs Kuratko / A

Open Class, Kasaque Nappanu Ex 1, CACA, CACIB

Honorary Class MCH Bedu Efendi Ex 1, CACA

CACIB Klagenfurt / Austria
13. Juni 2010
Judge: Mr Zlojutro / HR

Open Class,Kasaque Nappanu Ex 1, CACA, CACIB

Honorary Class MCH Bedu Efendi x 1 + BOB

Efendi finished the Austrian Champion !!

3 Counties Championship Show (11th June 2010)
judge Mrs Jill Peak
1st Puppy Dog, Kasaque Orlando
" 71/2 month smooth male, good type, head proportions, correct good eye, nice neck, good depth of chest, good bone, nice body and balance, nice light movement"
2nd Puppy Bitch, Kasaque Odetta
Very nice smooth bitch ,nice dark eye, good pigment, good
length of neck, good topline and quaters, moved a bit
erratically in front, good behind
1st Post Graduate Bitch, Challenge Certificate:
Kasaque Neeka
Very striking bitch, lovely head and expression, good neck and fron asembly, correct bone, good feet, lovely body and outline, strong quarters, flowed around the ring with effortless movement."
2nd Limit Bitch, Kasaque Miracle
"Two year old bitch, nice head proportions, good neck and shoulders, good bone nice body"
Southern Counties Championship Show 2010
Judge Mrs Karen Fisher
BCC, BOB Nigel & Janet Locke's
Kasaque Nashua
RBCC Kasaque Miracle
1st Minor Puppy Dog: Kasaque Obidah, Well muscled & very well presented good tight feet & moved well, winning the class on his overall balance
Kasaque Orlando, slightly too long in the back which make him unbalanced to my eye. Well presented in good muscle condition moved out well.
1st Minor Puppy Bitch, Kasaque Odetta, lovely head with a good eye & dark pegmentation, good length of ear & nice neck into well laid shoulders, good muscling throughout commensurate with age. Would like to see see a bit more depth of brisket moved well.
2nd Minor Puppy Bitch, 1st Puppy bitch Kasaque Ola Nefia Another one with a beautiful eye & expression, nice neck with a good lay of shoulder & return of upper arm. At this moment she is a little high on her rear probably due to a growing spurt & this was the only way I could split her & 1.
1st Post Graduate Bitch, Kasaque Nashua, this bitch was the complete picture, a lovely head with a kind expression, good neck & well laid shoulders with correct teturn to upper arm, good depth of brisdet & well laid back, well conditioned & moved out beautifully holding her outline, CC & BOB
2nd Post Grduate Bitch, Kasaque Miracle, another lovely bitch, possessing a good outline, shown in superb muscular condition, on the move she seemed to be flagging a bit possibly due to the hot weather RCC
Limit Bitch Kasaque Lydia, a lovely bitch shown in excellent muscular condition. good head & neck with correct shoulders & possessing a good topline & undersone moved well.
Photos thanks to Jenny Macro
BOB, BCC Kasaque Nashua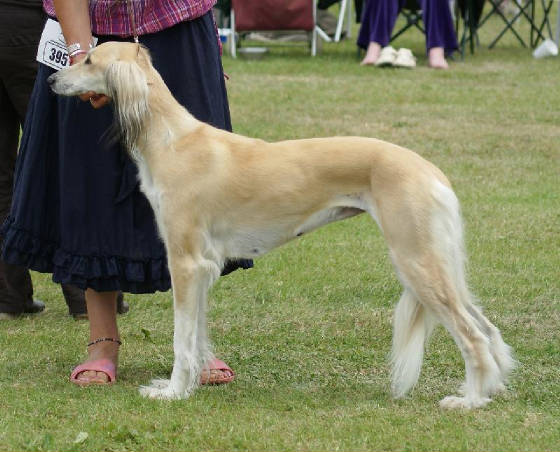 RBCC Kasaque Miracle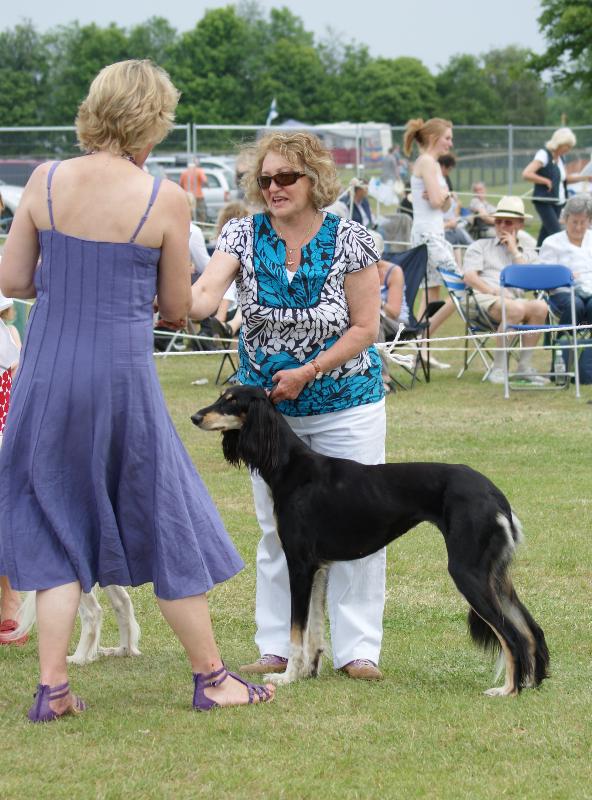 1st Limit bitch Phyllida Cooke's Kasaque Lydia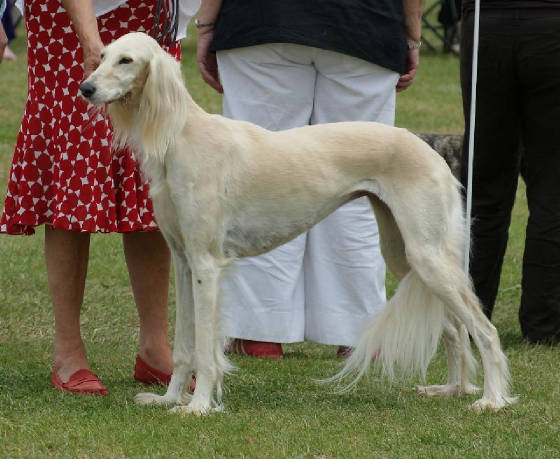 1st Puppy Bitch, Laura Macro's Kasaque Ola Nefisa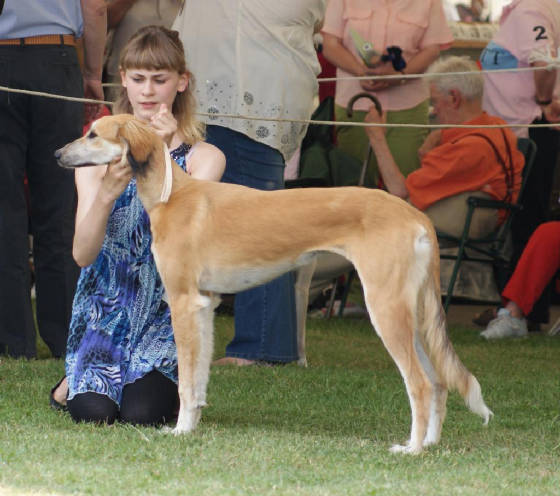 1st Minor Puppy Bitch Kasaque Odetta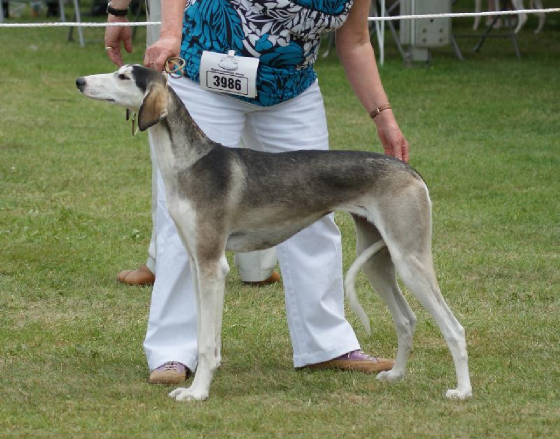 RDCC Nefisa Jeevun
Owned by Steve & Jenny Macro
Half brother to Miracle
Sire of Kasaque "0" Litter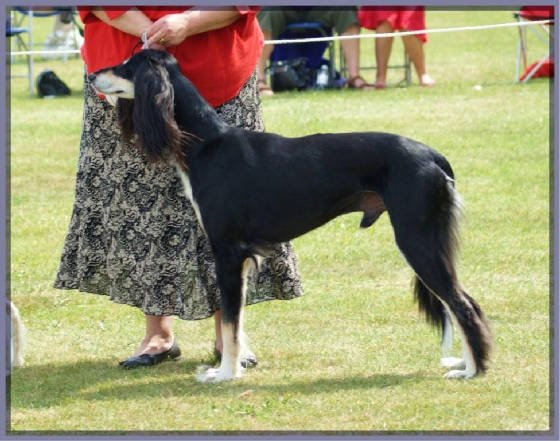 1st Minor Puppy Dog Connie & Heidi's Kasaque Obidiah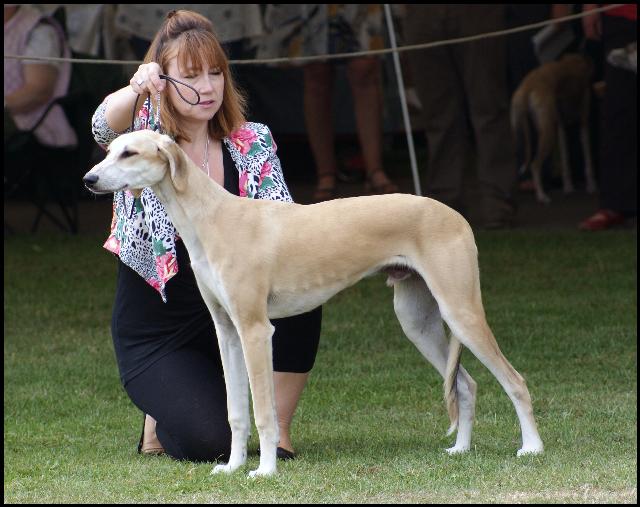 Bath Championship Show (no CCs for Salukis)
Judge Ms Clair Boggia
BB,BOB and pulled out in Group
Ch Kasaque Luzhana JW
2nd Puppy Dog Kasaque Orlando"Very raw six month baby who like his brother i8n 3rd place was not at all settled. Love his head, neck and shoulder placement. Everything in the right place just needs lots of time. Very true coming towards you"
3rd Puppy Dog Kasaque Obidiah"This is another very nice youngster who sadly was giving his handler a hard time and I was unable to assess his movement today. Lovely type of dog who excelled in head and eye-similar comments to two. Slightly more bone than 2 at present."
1st Puppy Bitch Kasaque Odetta "Grizzle six moths bithch with super head, ears and eye. Good shoulders , deep chest and good hindquarters. Not overly long and moved well for one so young."
1st Post Graduate Bitch Kasaque Neeka £A two year old bitch who exudes quality. Very elegant standing with good leather, feet and outline. On the move moves with grace and precision"
1st Open Bitch Ch Kasaque Luzhana JW"Apparently i judged this bitch as a puppy and did her well..she has certainly developed into a lovely bitch. Nice head, good leathers and hazel eye. Carried her neck well into good shoulders. Nice outline, well bodied, good bone and excellent hindquarters which were well muscled. This bitch flowed around the ring with such elegance. Best bitch, BOB and short listed in the group"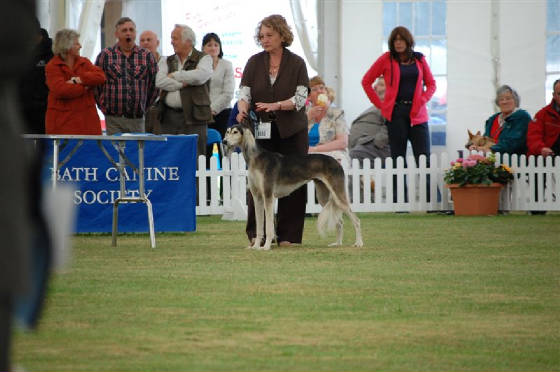 photo thanks to John fitzgerald
Scottish Kennel Club
(Sunday 23rd May 2010)
Judge Mrs Shirley Rawlings
1st PGB Janet & Nigel Locke's Kasaque Nashua
CAC Show in Gelsenkirchen, 22. Mai 2010
Judge: Mrs P. Mottershaw /GB

Puppy class (Age: 6-9 months )
Kasaque Oliver very promising / Puppy BOB
Grizzle smooth coat. Very well shaped head and skull. Very good front and shoulder, well developed body and bone. Good spring of rib, muscular hind quaters. Long tail. Strong well shaped feet. Moved
very confidently with light gait.

Open class (Age: from 15 months)
Kasaque Nappanu Excellent 2,
27 month, pale creme smooth with very nice dark pigmentation. Has
beautifulle shaped head, strong long neck, very nice shoulder, good
depth of brisket. Pleasing topline and underline. Well shaped quaters, well muslcel. Moved out very well.


BIRMINGHAM NATIONAL 2010
JUDGE ROY GOODBY
RAY & CAROLINE PICKERING'S KASAQUE NEWARK
2ND POST GRADUATE DOG
4TH LIMIT DOG
LAURA MACRO'S KASAQUE OLA NEFISA
1ST MINOR PUPPY BITCH
1ST PUPPY BITCH
BEST PUPPY IN BREED
Miracle wins 1st CC at Northern Saluki Club Championship Show. Judge Mrs Sue Rabey-Wilkinson
BCC,BOS "Mature blk/tan, presented in immaculate condition,
soft gleaming coat and in immaculate condition, soft gleaming coat and a
well muscled body. Balanced and moderate all through, real Saluki 'I can
catch that' look to her. Excellent forehand, strong back and h/quarters,
really decent spring of rib and heart room. Flad, bladed bone, long, well
arched feet. Topped with a pleasing head, with real Saluki expression.
Best movement by far in this class.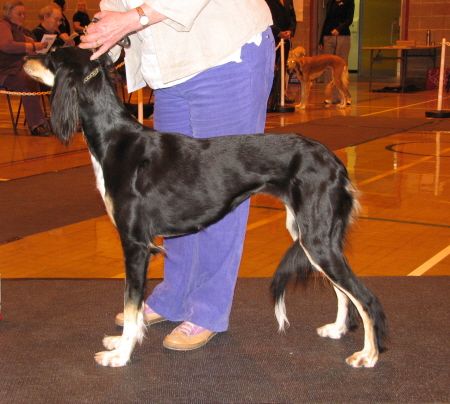 Kasaque Newark
1st Graduate Dog
1st Post Graduate Dog
"Blk fringed fawn, who fancied a nap whe he had finished his showing. Well grown youngster. I hope he fines down some. Very strong in head, needs to refine as very babish. Having said that, he is very well put together, excellent shoulders and powerful hindquarters, which was very evident in his sound and long stride. Moved very lightly, given his sturday build. Appealing expression and character. A slow maturing one, but he has much going for him."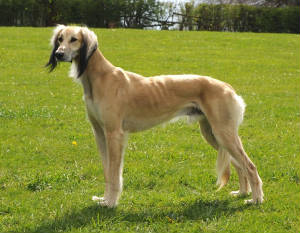 Kasaque Neeka 2nd Post Graduate Bitch
"Fawn, heavily shaded with blk. I think the softest expression of the day. A sturdy girl, very clean shoulders, bit straight in upper arm. Well ribbed back to poweful hindquarters, Flat, bladed bone, really big long feet. Moved well"
Limited Show 2010
Judge Mrs Barbara Henry
( thanks to Lorraine Fitzgerald for Limited Show photos)
Best in Show Kasaque Miracle
(Black tri in centre of photo)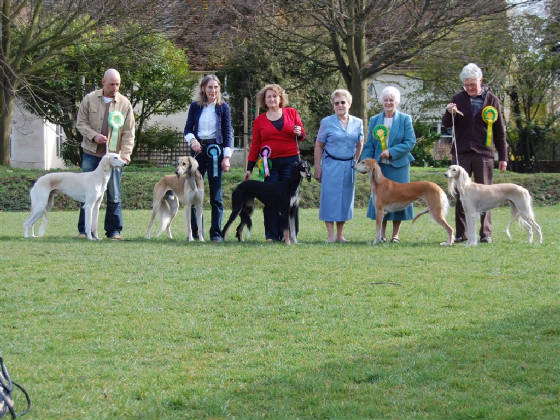 Maya Monk-Schenk's Kasaque Niagra
Best of Opposite Sex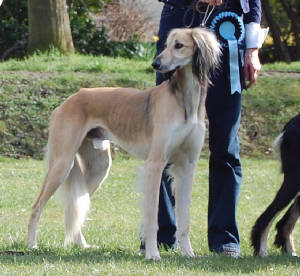 Crufts 2010
Luzhana
Reserve Bitch Challange Certificate
Miracle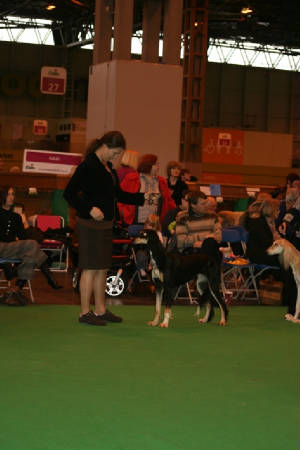 Janet & Nigel Locke's Nashua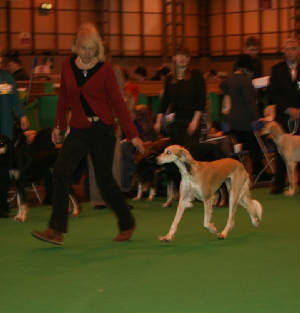 Saturday - Judge Mrs Bystrup / DK
Intermedian Class
Snoopy Ex 1 CAC
Championclass
Fendi Ex 2

Sunday - Judge Mr Richter / D
Intermedian Class
Snoopy Ex 1 CAC
Championclass
Fendi Ex 1 BOS BOB

Miracle winning RCC at Southern Counties. Showing her
is never dull!!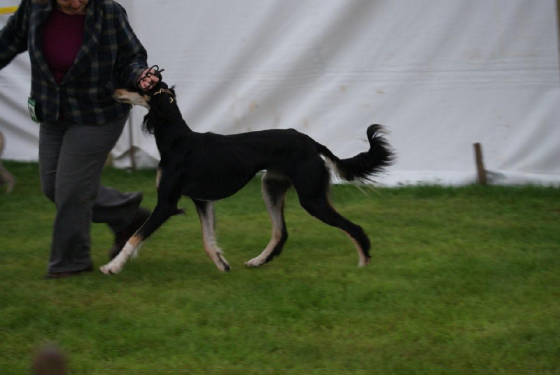 Crufts 2009
Judge Mrs Z, Thorn Andrews
`
Crufts 2009
Special Puppy Bitch:(8)
1 & BP, Williams, Tovey & Redfern's Kasaque Neeka: Outstanding youngster of 14 months, she is full of promise throughout, good make
and shape, well made and muscled, beautiful head and eyes and a sound impressive mover. Sister to 2nd PD.
2nd. Locke's Kasaque Nashua: Could do with a slightly more angulated upper arm but also nicely balanced for height to length ratio, pleasing elegant outline too, and she moved well for her age.
Another sister I see.
Special Junior Bitch: 2nd Kasaque Miracle. Sound mover and very well muscled up, nice proportions, good legs and feet, very promising but today did not quite have the lightness in movement that the winner displayed.
Neeka winning Best Puppy at Crufts. Judge Mrs Z. Thorn-Andrews
Photo by Annette Buckley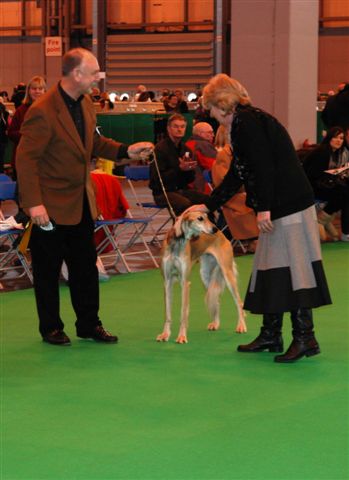 The lovely Miracle winning 2nd Junior Bitch at Crufts 2009
Photo by Annette Buckley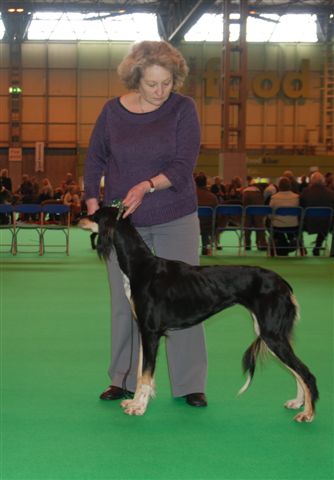 LKA judge Mrs P Kendall
1st Puppy Bitch Kasaque Neeka: Fawn and quite mature for her age. Refined head and long ears. Deep chest, moderately cast, good depth of chest and a trim waist. Developing good first and second thighs. Sound mover when she settled.
2nd Puppy Bitch Locke's Kasaque Nashua. Very similar to her litter sister and having all her attributes. Not qute so focussed as her at the moment on the move, but on another day could change places.
1st Junior Bitch: Kasaque Miracle. B/S with a good reach of neck, well laid shoulders with correct upper arm. Good forechest, slight rise over moderate loin. Excellent condition as always from this kennel. Shining coat of a short and silky texture. Good tuck up, long tail and solid hocks. Moved well when handler settled promising.
Jada with Pirkko winning Junior Class, BB4 and Res CC
Judge Mrs Karin Hedberg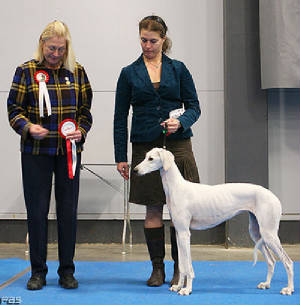 In "Our Dogs" today Miracle Remains Top Puppy
Richmond Championship Show, Lydia winning Group 4
Handled by Phyllida Cooke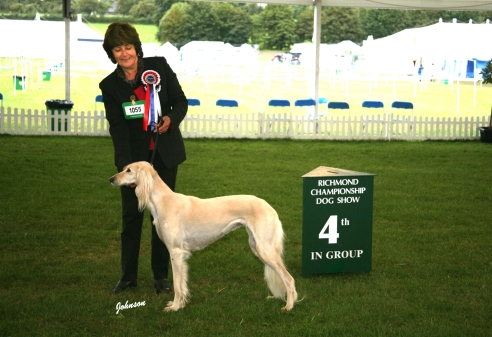 Richmond Championship Show Critique- Judge Mr Espen Engh
2nd. Puppy Dog: Kasaque Niagra. Seven months old masculine, sand coloured male. Very puppyish in his head, beautiful eyes, wellset ears. Pleasing proportions in body but needs to gain more depth of brisket and to stabilize. Excellent bone, Moved very well from behind and nicely from side but still very loose in front.
1st Junior Dog: Darquell Salah-Addin Poweful, masculine black & silver, well developed for his age. Attractive masculine head, but could have a stronger underjaw. I liked his exotic expression. Long crested neck. Enough front fill for his age, excellent underline. Standing he covered ground very well but is at this time a bit too high behind and still needs to settle but his moving picture proved that he will. Moved with suppleness, strength and pleasing balance from the side, quite well coming and going too.
1st Puppy Bitch: Kasaque Miracle Stunning black and tan bitch puppy, outstanding type and quality. Very feminine, very graceful still has enough substance to compliment, Classical head. Long and elegant neck. Beautiful, flowing, graceful bodyline makes her such an eye-catcher. Powerful broad thighs. Under the bad weather conditions she tended to stay with her hindlegs too far under herself. When she got going, she moved really well from the side.
Considered for the top awards. One of several who impressed from this breeder who must have similar Saluki ideal to my own. Best Puppy.
2nd Puppy Bitch: Kasaque Nashua: Another attractive bitch, light fawn teeming with charm and quality. Beautiful expression. Bodywise she looks her age ore ven slightly younger. Long neck, Moderate but balanced angulation. Attractive topline. Playful on the move, but showed very good potential in her movement.
3rd Puppy Bitch: Kasaque Neeka
1st Limit Bitch: Kasaque Lydia: Definately the star of the day. A very very beautiful, classical creme bitch,excelling in type and overall appearance and teeming with quality. Beautiful, feminine, Classical head, well set ears. Long and strong neck. Well angulated both ends. Beautiful body proportions and silhouette. Typical feet. Not always in sync with her handler on the move, but at time she moved very well indeed. For me she won the CC & BOB with something in hand. Pleased to see that she is a doughter of my BOB winner the last time I judged in the UK and to hear she place in a strong group.
Open Bitch: Ch K. Luzhana, Unfortunately what looked like the winner of this class, had to be withdrawn due to lameness.
Bournemouth Championship Show...Judge Mr David Graham
Kasaque Niagra ( Maya Monk-Schenk) 1st. Puppy Dog:This 7 month old puppy is still very raw but should develop into a promising show prospect. Head well balanced, good expression and dark eye. I liked his fron body shape, good angles and length of rib cage. Rear angulation also good but still needs to develop over the croup. This should come with maturity. Unsettled on the move.
1st Puppy Bitch and Best Puppy Kasaque Nashua (Janet & Nigel Locke) Lovely puppy but needs more ring training. I especially liked her overall shape, balance and outline when standing hence best puppy over her brother. Lovely head and expression. Good angulation both front and rear. Needs to settle on the move, but still demonstrated good rear action.
Hound Association: Judge Mrs Jenny Macro:
Darquell Salah-Addin: (Tovey, Williams & Redfern) 1st Junior Dog
Elegant black & Fawn who won here on his movement over the second. Attractive masculine head with long neck. Genually well put together. Moved well when viewed from the side with a lovely light action with reach and drive
What a gorgeous pair of puppies:
1st Puppy bitch and Best Puppy: Kasaque Miracle What a cracker this black tri is. Excudes quality. Super head, eye and expression. Long neck. Correct forehand. Deep brisket and good top and underline and correct hindquarters. Typical feet. Moved very well in all directions and should go to the top on maturity.
Kasaque Neeka (Williams, Tovey and Redfern) This owner is indeed fortunate have bred another lovely pup. This promising B/F
fawn being somewhat younger than her kennel mate wasn't taking the show ring too seriously but will doubtless will soon settle to show off her virtures. Well put together with a lovvely head and the best of eyes...Giving a wonderful expression. When settled she was a sound mover.
Open Bitch 1st Ch Kasaque Luzhana JW: Elegant Grizzle who I have admired from the ringside; Good head, eye and expression. Long neck which flows into correct forehand and upperarm. Good depth of brisket, correct topline and neat tuckup. Lovely sweep to hindquarters with low hock and good feet a sound, easy mover with excellent light lifting side action, showing reach and drive RCC.
.
Miracle winning BPIS
Thanks to the judges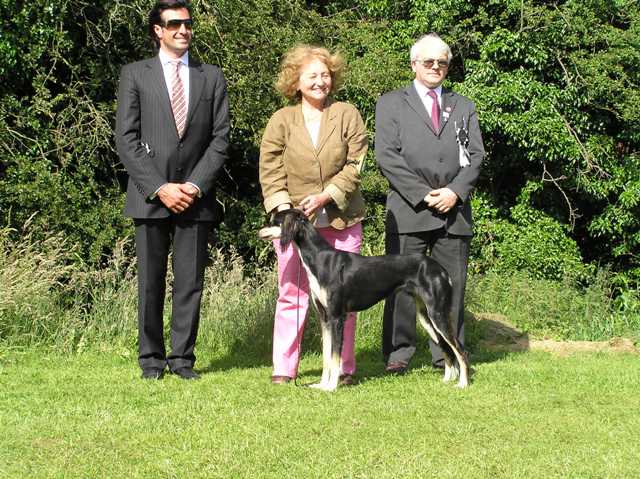 Miracle winning Best Puppy at SCCS
Judge Diane Allan
photo Kathy Webb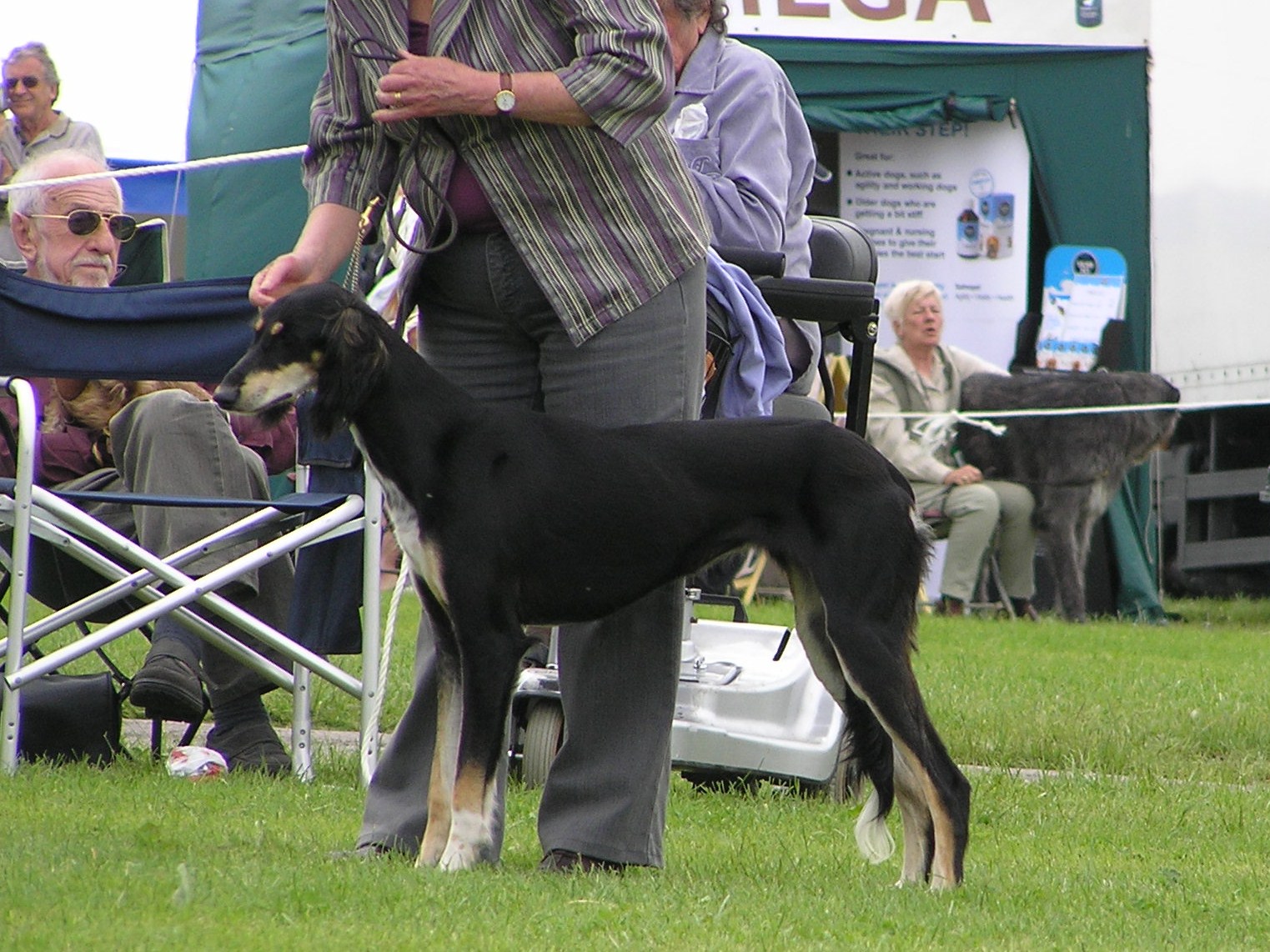 Lalique winning her second Challange Certificate
(photo Kathy Webb)
Darquell Salah-Addin owned by Nick & Daphne Tovey and us
winning Junior Dog SKC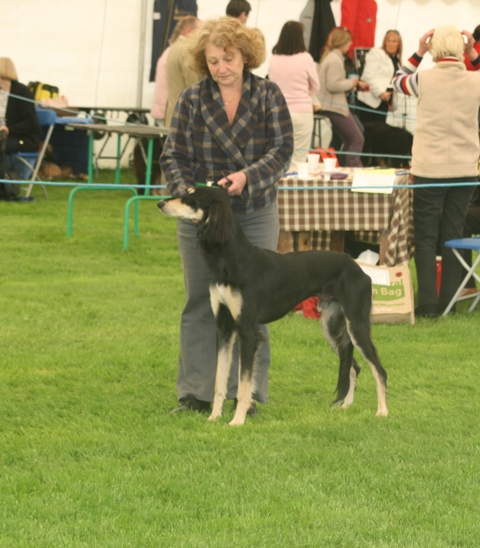 Kasaque Miracle winn Best Puppy SKC at 8 months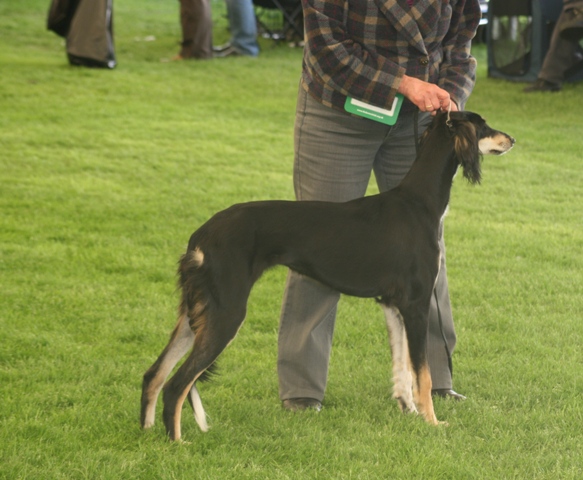 Crufts 2008, judge Mrs Mavis Roberts
Ch Kasaque Jimna ShCM: (Veteran Dog) Headed a good class of quality veterans. He is very graceful and sound, moving correctly and with a lovely topline well kept. Good strong neck set into good shoulders, good head with strong underjaw. Excellent hindquarters showing plenty of drive and strength not over angulated stifles.
German Youth Ch Bedu Efendi (2nd Limit dog) A very exciting smooth with a lovely outline. Classic head, long neck into great shoulders, good gentil hind angulation. Hi movement was spot on, light and flowing. He was among my best four dogs.
Kasaque Jarvah (3rd Veteran Bitch) Quality cream, again elegant and refined. lovely neck and shoulder, excellent movement.
Darquell Samira (3rd Special Puppy Bitch) The baby of the class, Good all round Quality, moving really well. I liked her refined outline, good head and nice angulation. Ch Kasaque Luzhana JW
(2nd Open Bitch, CC) This lovely grizzle was close up to winner. ~Great overall quality from he balanced head to very well constructed body. Movement was lovely, accurate and free flowing
**********
The Northern Saluki Club Championship Show
2nd September 2007 Judge Mrs Beryl Payne
Kasaque Luzhana wins yet another CC
********
East of England Championship Show
17th July 2007 judge breed specialist Kevin Carter
Caspians L'aliq wins her 1st CC
Saluki or Gazelle Hound Limit Show
18th February 2007 Judge Miss C Andersson
BIS Caspians L'Aliq Avec Kasaque
Winner of Junior Class our newly imported
Ruwach ZaZou al Monab (imp)
See photos of Front page with judge